Artist Bio and Statement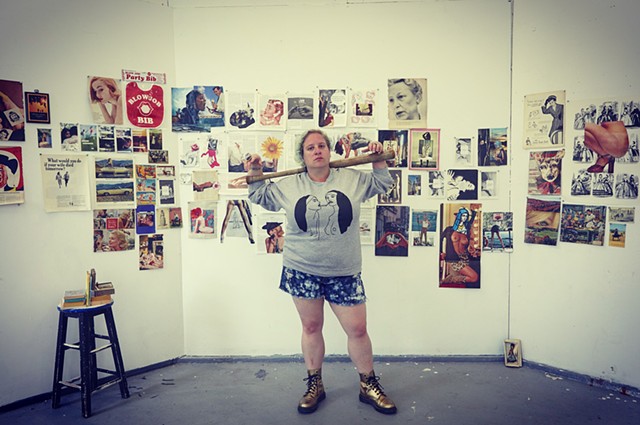 Dafna Steinberg is a lens-based artist living and working in Philadelphia, PA. Originally from Washington, DC, Steinberg has an extensive national exhibition career. Her work embodies themes such as grief, personal intimacy, and gender. She is currently researching how artists can use photographic self-portraiture as a form of social practice for her MFA thesis in the graduate Socially Engaged Studio Art program at Moore College of Art and Design. Before tackling her MFA program, Steinberg worked as an adjunct studio art and photography professor at Northern Virginia Community College.
I am an interdisciplinary and lens-based artist, whose current focus of practice is photography and hand-cut collage that utilizes paper ephemera, found objects and text. My work has spanned a variety of mediums, including photography, video, collage, installation, and performance. I work with themes that relate to the experiences of women and the fragmentation of the female body. Previously I have made work about interactions between men and women and how these interactions play out in building relationships and understanding. My hope is that my projects, while based on events from my own life, will speak to a wider audience who have experienced similar occurrences.
Between 2014 and 2016, I worked on the collage series I'm Willing To Lie About How We Met which stemmed from my own personal experience using the dating app Tinder. It examined the differences between the superficial hopes of romantic love, the stark reality found on dating sites and trying to reconcile the two while combating the misogyny of "hook up" culture. While this project started out with a focus on masculinity, it evolved into one about the way in which women experience the "male gaze" when using Tinder. I used real opening lines men sent me in personal messages on the app against a backdrop of romantic imagery found in vintage magazines and books.
Beginning in August of 2016, while in residence at Vermont Studio Center, I created And All I Got Was This Lousy T-Shirt. While the catalyst for the work was a personal trauma, the collage series evolved into an emotional response to the political and cultural climate of the time. Considering the 2016 presidential election and social movements like #metoo and the Women's March, the work looked at issues such as the objectification of the female body, reproductive rights, sexual assault, and continuous attacks on a woman's right to be autonomous. The work culminated in an exhibition that combined my collage work with a collection of found historical misogynistic objects displayed in a way to mimic a museum.
After working as a collage artist for close to ten years, I returned to photography with the series La Belle Fleur Sauvage which focused on my experiences of being a fat woman. A theme running through many conversations happening around fat identity is this: simply existing, as any other person would, is a rebellious act. Being a fat woman is something that has formed part of my identity. To many, my body is a confrontation; my comfort in it makes them uncomfortable. Because of this, I wanted to explore ideas around comfort and personal intimacy. I have no control over how others perceive my figure or me. All I can do is find solace in my own confidence.
For me, when creating this series, I wanted to show myself existing...doing everyday things that are non-monumental. I also wanted to show myself cast as different roles, as opposed to the socially constructed identities often placed on fat women. I want the viewer to reflect on their own reactions to each image and to question how they truly feel when looking at a person comfortable in a body that is not conventional. I'm not a monster. I'm not ugly. My body is not just flesh and bones. It is my home.
This exploration around myself and my body continues in my present projects. For much of my artistic career, most of my work has been creating self-portrait series. The themes of these works have varied but have all connected to my own personal experiences. While these images are meant to reflect my own life, there is always an element of make believe. Fact and fiction are not a binary, but rather a spectrum and I enjoy blurring the line between the two when photographing myself.